Over the course of fifty-two years, William Greaves created an

immense body of work

that documented, reflected on, and

celebrated the African American experience.
From 1953-2005, Greaves was the producer, writer, director, cinematographer and/or editor of seventy-nine films. Spanning documentary, narrative, and hybrid forms, the films tell a vast, complex story about the major figures engaged in the fight for social justice, equal opportunity, and basic respect. From the fierce battles for civil rights (Nationtime and Black Power in America: Myth or Reality?) to the remarkable achievements of inspiring leaders (Ida B. Wells: A Passion for Justice and Ralph Bunche: An American Odyssey) and onward to the two uncategorizable, astonishing Symbiopsychotaxiplasm films, William Greaves's filmography constitutes a unique and powerful portrait of the United States and its checkered history.
Features on the website include:
• The FILMS page, which provides a detailed look at eighteen of Greaves's seminal works.
• The ABOUT GREAVES page, with a biography, links to all his video interviews, and a comprehensive filmography.
• The NEWS page, about recent and upcoming events related to his work.
• The REVIEWS page, with a comprehensive bibliography broken down into numerous categories, and all printed interviews with Greaves and texts by him. Almost all of the 115 items are available as downloadable PDFs.
• The PURCHASE/STREAM page has information about how to buy DVDs or stream the films that are featured on this site.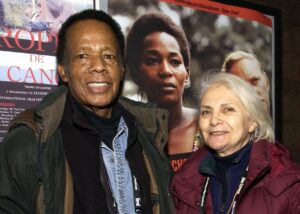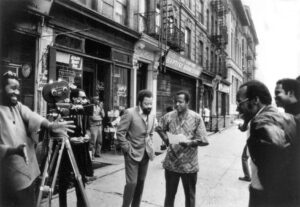 Photo credits:
Top: Greaves and crew on location in Central Park, 2003 (Photo by Susan Stava)

Middle: Greaves with Louise Archambault Greaves, co-producer of "Symbiopsychotaxiplasm
Take 2 1/2" at the 2005 Sundance Film Festival (Photo by J. Countess/WireImage)

Bottom: Greaves on location in Harlem with the crew of "Black Journal"