KINO LORBER RELEASES NATIONTIME
Kino Lorber has acquired U.S. and Canadian distribution rights to the documentary Nationtime by William Greaves, about the historic National Black Political Convention of 1972 which brought together major Black leaders and activists of the time.
The distributor is planning an October 23 release in virtual cinemas through its Kino Marquee label.
Narrated by Sidney Poitier, the film was originally considered too radical for TV broadcast, and has only circulated in a heavily edited 60-minute version. But the original full-length version was found in a Pittsburgh warehouse in 2018 and restored in 4K by IndieCollect, supervised by Louise Greaves and funded by Jane Fonda and the Hollywood Foreign Press Association Trust.
Read more about it here.
To see the Press Release click here.
Check back in to the Purchase page listing for access information when the film is released.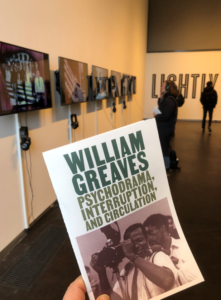 On February 21, 2020, Princeton University presented William Greaves: Psychodrama, Interruption, and Circulation, a day-long symposium organized by artists Fia Backström and Martine Syms.
The symposium included presentations by Malik Gaines and Alex Pittman; a panel discussion with Gaines, Pittman, Syms and Backström moderated by Erin Christovale; a screening of Greaves's newly restored 1972 film Nationtime, introduced by Louis Massiah; and an exhibition in the Hurley Gallery entitled "William Greaves — Sondra Perry — Martine Syms," which included works by the three artists.
A publication accompanying the event, with texts by Aria Dean, Devorah Heitner, and Jared Sexton, and a conversation between Backström and Syms can be read here.
The symposium was presented by the Program in Media + Modernity, the Department of African American Studies, the Department of Art and Archeology, and the Program in Visual Arts.
SLIDE SHOW
When you rest your cursor on an image, you will see the caption identifying the speakers, etc.
Photographs in the slide show are by Jon Sweeney (gallery views) and Ron Wyatt (panel discussion.) All photographs are credited as Photo by (name) / Lewis Center for the Arts © 2020 The Trustees of Princeton University
WILLIAM GREAVES: FILMMAKING AS MISSION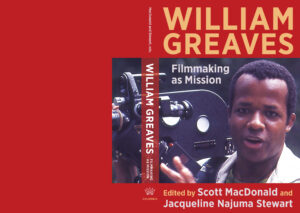 William Greaves: Filmmaking as Mission is due to be published in June 2021 by Columbia University Press. Edited by Scott MacDonald and Jacqueline Najuma Stewart, it provides the first comprehensive overview of Greaves's remarkable career.
The book brings together a wide range of material, including Greaves's own writings, many of them never before published, an extensive meta-interview with Greaves, conversations with his wife and collaborator Louise Archambault Greaves and his son David, and a wide-ranging mix of essays by critics, scholars, programmers, and archivists, including Richard Brody, Franklin Cason, Jr. and Tsitsi Jaji, Joan Hawkins, Alexander Johnston, Katherine Kinney, J. J. Murphy, Charles Musser, Laura Isabel Serna, Jacqueline Najuma Stewart, Joseph L. Underwood, Patricia R. Zimmermann, and Shola Lynch. Together, they illuminate Greaves's mission to use filmmaking as a tool for transforming the ways African Americans were perceived by others and the ways they saw themselves. William Greaves: Filmmaking as Mission is an essential resource on Greaves's work and his influence on independent cinema and African-American culture. Here is the link to pre-order the book from Columbia University Press.
William Greaves: Filmmaking as Mission is also available to pre-order from Barnes & Noble. 
The editors:
Scott MacDonald is director of cinema and media studies and professor of art history at Hamilton College. His 18 books include The Garden in the Machine: A Field Guide to Independent Films about Place (2001), Avant-Doc: Intersections of Documentary and Avant-Garde Cinema (2015), The Sublimity of Document: Cinema as Diorama (2019), and 5 volumes of A Critical Cinema (1988-2005).
Jacqueline Najuma Stewart is professor in the Department of Cinema and Media Studies and director of Arts + Public Life at the University of Chicago. She is the author of Migrating to the Movies: Cinema and Black Urban Modernity (2005), the coeditor of L.A. Rebellion: Creating a New Black Cinema (2015), and the host of "Silent Sunday Nights" on Turner Classic Movies.
In March 2020, Firelight launched the inaugural William Greaves Fund for mid-career nonfiction filmmakers of color.
This newly dedicated fund will resource talented storytellers from racially and ethnically underrepresented communities in the United States, as well as filmmakers from Mexico, Brasil, Puerto Rico and Colombia with a particular interest in those who identify as being of indigenous and/or of African descent.
The new Fund reflects Firelight's commitment to supporting stories and storytellers that fill our popular culture with nuance, beauty, complexity, and that reflect a broad range of often underrepresented views.
The fund was named in honor of William Greaves, the longtime mentor of Firelight's founder, Stanley Nelson. Greaves' legacy in the documentary field includes producing the seminal television newsmagazine Black Journal and 200-plus documentaries throughout his 60-year career.
To read more about the fund, or to apply, click here.
To read about the first recipients, click here.