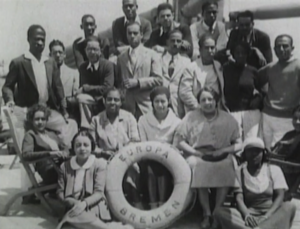 From These Roots (1974, 28 mins.) explores the extraordinary artistic, cultural and political flowering that took place in Harlem during the "Roaring 20s." This vivid portrait of the Harlem Renaissance is created entirely with period photographs. Narrated by the actor Brock Peters, with original music specially composed and performed by Eubie Blake, From These Roots is a winner of 22 international film festival awards.
From an interview with David Greaves:

"Putting From These Roots together was a problem. Dad was editing and I was assisting, and try as he might, he could not get the live action to go with the stills. It had to be one way or the other and he decided that to tell the story of the Harlem Renaissance we had to go with the stills.
New York may be the only place in the world where at 3:00 a.m. on a Sunday morning there are three or four places you can go and have a hot apple pie a la mode with melted cheese and a coffee. Our choice was the Howard Johnson's on Eighth Avenue and 50th Street, almost around the corner from our 54th Street office.
When we got back to the office, my father sat at the machine and then it was, "Put this behind that," "Tail sync this to that," "This section goes"…, me furiously writing on my ever-present yellow pad. Finally, he said that was it; he was going to lie down until they came, which would be in a couple of hours.
I took to the editing bench. Today, the work could be done in a café on a laptop, but this was still the analog world of trim bins, synchronizers, splicers, rewinds, and split reels. I spent a couple of frantic and exhilarating hours, watching order being brought out of chaos."
–Excerpt from "Scott MacDonald, Interview with David Greaves" in "William Greaves: Filmmaking as Mission" (Columbia University Press, 2021)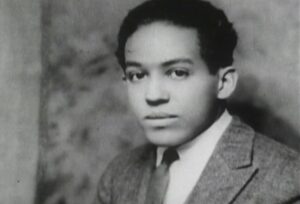 "…[Greaves] also began to produce important historical documentaries, beginning with From These Roots (1974), a look at the Harlem Renaissance of the nineteen-twenties. Among other things, the film was a return to Greaves's own roots growing up in Harlem. This pioneering effort treated the major contributors to that Renaissance with much greater sympathy and insight than the then standard book on the subject—Nathan Huggins's The Harlem Renaissance.
With little stock footage of Harlem and its intellectuals available, Greaves decided to construct a film composed exclusively of photographs. What emerged was a compelling portrait of a community made strong by relative freedom and opportunity. Within the larger context of documentary practice, the film helped to inaugurate a cycle of city neighborhood films that focused on local communities. One of the best known, William Miles's I Remember Harlem (1980), owed much to Greaves's earlier effort."
–Excerpt from "William Greaves, Documentary Film-making, and the African-American Experience" by Adam Knee and Charles Musser in Film Quarterly (1992), reprinted in full in "William Greaves: Filmmaking as Mission" (Columbia University Press, 2021)
For DVDs, please see the Purchase/Stream page.
Watch the clip (for free) or rent the full film below: