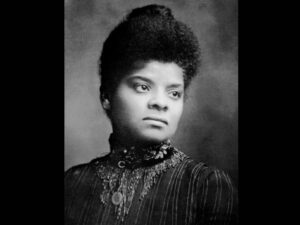 Ida B. Wells: A Passion for Justice (1989, 54 mins.) documents the dramatic life and turbulent times of the pioneering African American journalist, activist, suffragist and anti-lynching crusader of the post-Reconstruction period. At the time of the film's initial release on The American Experience in late December 1989, Wells had been virtually forgotten, her autobiography long out of print. However, Wells was a household name in Black America during much of her lifetime (1863-1931) and was considered the equal of such well-known contemporary African American leaders as Booker T. Washington and W.E.B. DuBois.
The words of Wells are brought to life in the film through the performance of Nobel Prize-winning author Toni Morrison as she reads selections from Wells' memoir, Crusade for Justice, and other writings.
The film has received many awards, including First Place Documentary Award from the Black Filmmakers Hall of Fame, the Silver Apple at the National Educational Film and Video Festival, and the Silver Plaque at the Chicago International Film Festival. Ida B. Wells: A Passion for Justice is a valuable resource for a broad range of courses, including Women's Studies, Black Studies, and Journalism.
"When author Toni Morrison reads from Wells's autobiography, Crusade for Justice, the film experience becomes more personal. The voice of Ida B. Wells embodied in Toni Morrison conveys the vitality of Wells's literary style, which characterizes the tenacity and the strength of the woman. Excerpts from Wells's autobiography, articles, and essays also function as transitions from setting to subject. Moreover, Morrison reading Wells suggests a literary legacy in black women's history…[The film] provides an excellent introduction to her life and even conveys that life's complexity by relaying the conflict between radicals and conservatives; male domination vs. women's rights; and the private vs. the public life of Ida B. Wells."
–Excerpt from "Reviewed Works" by Melba Joyce Boyd in the NWSA Journal, Spring 1994

"Greaves depicts Wells's life and work fervently, joining excerpts from Wells's memoirs (read on camera by Toni Morrison), interviews with scholars (including Paula Giddings and Troy Duster, Wells's grandson), and his own written narration (spoken by Al Freeman, Jr.) with teeming visual documentation. In counterpoint with the voices on the soundtrack, he brings a dramatic array of engravings, photographs, and printed archives to life with great imaginative power."
— Richard Brody, The New Yorker
"A powerful account of the life of one of the earliest heroes in the Civil Rights Movement…The historical record of her achievements remains relatively modest. This documentary goes a long way towards rectifying that egregious oversight."
–The Chicago Sun-Times
"A keenly realized profile of Ida B. Wells, an African American who used her potent skills as writer and orator to fight racism and sexism."
–The Los Angeles Times
"In the 1980s William Greaves met my cousin Ben Duster IV, who told him about our family connection to Ida B. Wells and gave him a copy of the autobiography. The story of my great-grandmother's life was very much under-told and under-appreciated at that time, and Greaves decided to create a documentary film based on the book. In 1988, my father's generation worked closely with Greaves, providing him with information for the film. At the time, I was a graduate student at Columbia College Chicago film school, and Greaves asked me to work with the production team, and I later worked on the post-production as well.
Watching Bill make decisions about what to keep in—or not—during the editing process was fascinating, and a great learning experience. The subject matter was expansive and difficult—as in violent: there were a lot of discussions about how many images of lynchings should be shown and how graphic they should be. And even though it was Bill's film, he still had to negotiate the expectations of funders and broadcast outlets. He didn't express his feelings directly to me, but I could see that some of these decisions were quite stressful for him. Yet, it was inspiring to observe his level of focus and his determination to complete the film in the way that he felt was comprehensive and respectful.
When the film was completed in 1989, our family hosted a screening for Bill at the DuSable Museum of African American History in Chicago. It was such a proud moment for our family to see our ancestor's life depicted in a sweeping and deeply informative film. Ida B. Wells: A Passion for Justice helped the story of my great-grandmother become more well-known. The film is considered a classic, and has helped educate and inspire people for the last thirty years.
Bill was not only an amazing filmmaker, he was an amazing man, and very generous in sharing his resources and knowledge. He was encouraging, he was honest, and my life would not be what it is without having had the experience of working with him."
—Excerpt from "'Ida B. Wells: A Passion for Justice' (1989): personal production notes" by Michelle Duster in "William Greaves: Filmmaking as Mission" (Columbia University Press, 2021)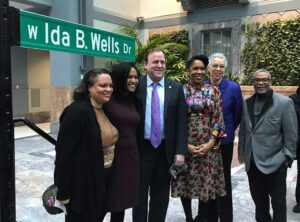 For DVDs, please see the Purchase/Stream page.
Watch the clip (for free) or rent the full film below:
TRAILER from California Newsreel: