"The corporate-sponsored documentary In the Company of Men (1969, 52 mins.) examines racial friction between white management and chronically underemployed African Americans in a Southern auto plant. Greaves's idea was to use a Moreno-trained psychodramatist, Walter Klavun, to create a sociodrama to deal with racial conflict within the workplace. His approach proved to be novel for a sponsored film.
Instead of relying on a written script, Greaves chose to structure the film around a series of improvised situations consisting of the two conflicting sides within the workplace: the white foremen and black hardcore unemployed workers. Each group had deeply held prejudices against the other. In the film, Greaves was not interested in simply presenting the issue of racial conflict within the workplace. Instead, he wanted In the Company of Men to create a transformational encounter in order to enact change between the white foremen and the alienated African-American workers at the auto plant."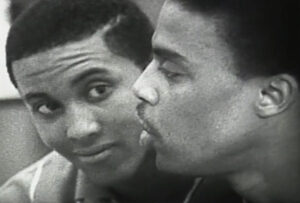 "Among the films in which William Greaves used psychodrama as a subject or technique of filmmaking, In the Company of Men is one of his most politically complex. Commissioned by Newsweek magazine and produced at a time when the post-war ideology of racial liberalism was fading and the social and material conditions of what we now call deindustrialization were beginning to emerge, it seeks to demonstrate how experimental group therapy methods of role-play and reenactment can repair broken lines of communication between white factory foremen and black men who were labeled 'the hard-core unemployed.'
But what exactly constitutes 'repair' remains an open question in this corporate-sponsored film that combines psychodrama's theories of disciplined spontaneity with cinéma verité's commitment to capturing life's undirected emergence. Does psychodrama help people relate across economic and racial divisions or does it make supervisors more sensitive while they exercise the prerogatives of workplace hierarchies?
A fascinating document of racial liberalism's contradictions in the late 1960s and how one filmmaker negotiated them, In the Company of Men is essential viewing in an early 21st century moment that sees corporate brands race to declare themselves anti-racist in response to mass mobilizations against anti-black state violence."
For DVDs, please see the Purchase/Stream page.
Watch the clip (for free) or rent the full film below: