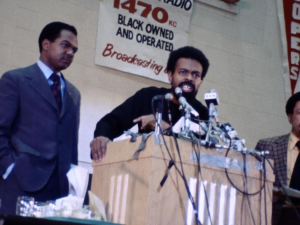 Nationtime (1972, 80 mins.) documents the National Black Political Convention, which took place at West Side High School in Gary, Indiana, from March 10-12, 1972. Its organizers intended to forge a unity platform in advance of the Democratic and Republican conventions scheduled for August of that year. The city coped valiantly to accommodate 3,000 official delegates and 7,000 attendees – many more than anticipated. This 80-minute version was restored by IndieCollect in 2020 and its title shortened to Nationtime to distinguish it from earlier versions distributed as Nationtime – Gary.
Despite lighting and audio challenges, William Greaves and his crew (including his son David Greaves) captured the excitement and ferment of the Convention, and created the only filmed record of this historic event.
Nationtime features rousing speeches by the Reverend Jesse Jackson, Gary's mayor Richard Hatcher, Amiri Baraka, and Betty Shabazz, the widow of Malcolm X; entertainment by comedian-activist Dick Gregory and musician Isaac Hayes; and backstage interviews.
Convention participants included leaders from across the political spectrum and stars of stage and screen: Harry Belafonte, Coretta Scott King, Queen Mother Moore, Richard Roundtree, Bobby Seale, Representatives Charles Diggs, H. Carl McCall, Walter Fauntroy, and many others.
The debates centered on issues that are at the center of the national dialogue today: police brutality, economic equity, voting rights, and unequal access to quality education and health care for people of color.
"Greaves' filmed account of this historic event, narrated by Sidney Poitier with poetry recited by Harry Belafonte, was at the time thought to be too radical for television broadcast and was drastically edited. Restored in 2020 to its original cut, in a 4K restoration from IndieCollect, with funding from Jane Fonda and the Hollywood Foreign Press Association, this rousing and revelatory documentary celebrates a diversity of black voices, finding support and solidarity even amid expected tensions and divisions."
–Malin Kan, AFI Film Festival 2020
"The National Black Political Convention of 1972 was a turning point in the struggle for self-determination and equal rights. The Convention adjourned without reaching consensus and some deemed it a failure. But the cry of Nationtime reverberates as America continues to wrestle with its legacy of slavery."
–The on-screen prologue in the newly-restored film (it wasn't in the original 1973 version.)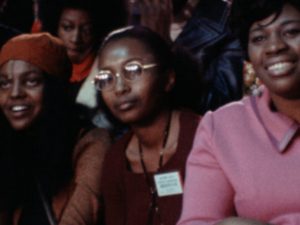 Watch the new color trailer from Kino Lorber on YouTube.
Sample clip of the b&w version: