"Still a Brother: Inside the Negro Middle Class (1968, 88 mins.), written by William Branch and photographed, directed and edited by William Greaves, is a tour de force exploration of the external and internal pressures that the Negro middle class was facing at a watershed moment in American political history.
Using extensive location shooting, archival footage, a bit of dramatization, and interviews with more than two dozen subjects, including Julian Bond, John H. Johnson and Bayard Rustin, Still a Brother demonstrates how persistent racism negated the Negro's increasing educational and professional advances, dashing their hopes for a 'truly equalitarian multiracial America.' At the same time, the middle-class Negro struggled psychologically with a normative white middle class value system, particularly as that system was being challenged by rising Black militancy and 'Soul' aesthetics among Black youth and lower classes."
–Adapted from "Sisters Inside 'Still a Brother: Inside the Negro Middle Class'—Black Women through the Lens of William Greaves" by Jacqueline Najuma Stewart in "William Greaves: Filmmaking as Mission" (Columbia University Press, 2021)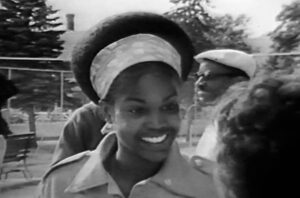 "In the acid test of true acceptance in society, the Negro middle class found its status was largely an illusory one. Now, said Mr. Greaves and Mr. Branch, the Negro middle class is realizing it must play an active role in liberating blacks, regardless of economic station, that no man can be an island unto himself…[T]he program was at its best in examining the mental revolution that was enveloping the black middle class, the realization that no matter what a black person's income or accumulation of academic degrees he was still not immune to humiliation solely because of color….[A] thoughtful and serious concern for an element of the Negro community that heretofore has not been adequately studied."
–Jack Gould, "N.E.T. Program Views Negro Middle Class" in The New York Times, April 30, 1968
"For Greaves and other documentarians, their work was about a 'revolution of the mind'—a phrase that Greaves would use to great effect in his late 1960s documentary Still a Brother: Inside the Black Middle Class to signal the need both to look at things from a different perspective and to recognize that black consciousness and self-conception themselves were in a state of flux…The documentary that Greaves completed reflected his own projection of the importance of the black middle class. In effect, he constructed a different reality—a black reality—and created a film that clearly had a purpose…Over the course of its ninety minutes, Still a Brother offered a multilayered interpretation of race and class in the American scene…As he tells stories about material possessions or life chances exclusive to people with high incomes, Greaves organizes them around the liminal space these blacks occupy: vacations in black enclaves like Oak Bluffs in Martha's Vineyard or Sag Harbor in Long Island; expensive soirées where wealthy blacks and whites mingle freely. They are often seen trying to explain their own struggles about not quite fitting into the black or white worlds. Interspersed throughout the film are small gatherings of middle-class blacks who are viewed engaging in fierce debates about the state of the country and the place of blacks within it. These well-off African Americans wrestle openly—in the privacy of their salons, that is—with their role in the freedom struggle and their obligations to the community."
–Excerpt from "The Black Body as Archive of Memory" by Jonathan Scott Holloway, in "Jim Crow Wisdom: Memory and Identity in Black America Since 1940" (University of North Carolina Press, 2013). The full text can be found on the Reviews page.
For DVDs, please see the Purchase/Stream page.
Watch the clip (for free) or rent the full film below: