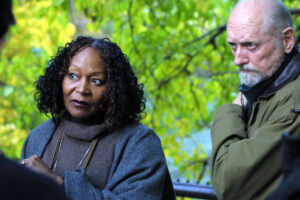 1968. Central Park, New York City. A director and his crew are shooting a scene for a movie. The scene involves a bitter argument between a young married couple – Freddie and Alice. In a fit of rage, Alice accuses her husband of being unfaithful – and gay. The director shoots and re-shoots the same scene from multiple angles in various locations throughout the park. But the melodrama of a failed marriage that is taking place in front of the camera is only part of the story. The "real" action is taking place behind and "off" camera. Multiple cameras capture the reactions of the actors, the director, an increasingly disenchanted crew and various mystified onlookers.
2005. 35 years later. The aging director is back in Central Park filming the same actors playing the same roles. Alice and Freddie have gone their separate ways. Alice is now a successful, if somewhat fading, cabaret singer; Freddie a much-in-demand group therapist. It is a beautiful fall day. The New York City Marathon is about to begin and all looks well as they meet for the first time since their bitter break-up 35 years earlier. It is obvious that they both want to bury the bitter past. But the director has other ideas.
Symbiopsychotaxiplasm: Take 2 1/2 (2005, 99 mins.) uses multiple cameras, mixes cinéma vérité and conventional shooting styles, as well as improvisation and scripted dialog to observe and reflect upon the creative aspects of the filmmaking process. Greaves sees the film as an attempt to explore the dividing line between reality and fiction.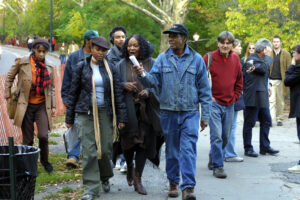 Selected by The Village Voice as one of their Top 40 Picks from the Tribeca Film Festival.
"Symbiopsychotaxiplasm: Take 2 1/2 hew[s its] own course and reaffirm[s] the too-often forgotten point that authentic independent cinema is independent in vision, not just in financing."
– Manohla Dargis, The New York Times, January 27, 2005
"William Greaves's Symbiopsychotaxiplasm: Take 2 1/2, the sequel to his scandalously unappreciated 1968 Symbiopsychotaxiplasm: Take 1, once again provokes us to ask questions about the deployment of power in the filmmaking process and its relationship to power and hierarchies in the world…admirable and haunting."
–Amy Taubin, Film Comment, March/April, 2005
"At a time when it's increasingly easy to be cynical about the state of film culture in America, it's no small thing to see a handful of twenty something film buffs emerging from a screening of Take 2 1/2 , their eyes shot wide open, their sense of what movies can be forever enlarged – the way one imagines Soderbergh and Buscemi reacted when they first saw Take One….
Take 2 1/2 returns to the scene of the original experiment, creates a new scenario built upon the events of the past, and sets about another aggressive peeling away of artifice and falsity, not just in the performances but in the filmmaking itself. The result is a uniquely exhilarating movie about moviemaking in which we are never quite certain whether we are situated behind the scenes or in front of them."
–Scott Foundas, LA Weekly, February 4-10, 2005